How to Make Your Home Special for Holiday Entertaining
One of the best things about the holidays is gathering with loved ones and enjoying the change in seasons together. If you've ever been in the position to host a holiday social gathering, there's a certain pride that comes with the job. Friends and family can be harder to impress with your holiday entertaining, though; they've seen your house, after all. And if you're the type to host annually, it can be a challenge to continually impress your guests.
If you're looking for inspiration for this holiday season, we've got quite the treat for you! We spoke with La Maison vendor Colleen Martin, creator of Swede Furniture to talk about the ways to make your holiday party this year the best one ever.
---

What are the key elements to achieve any memorable holiday event in your home?
Make your guests feel special, comfortable and leave enriched by their experience.  I try to give them the unexpected "WOW!" that they will remember for quite some time.
If it is your turn to host a holiday event at your home, don't panic – just start making lists of ideas as far in advance as possible.  Planning ahead and being organized are the best ways to eliminate stress for you and your guests to create a memorable event.  Use what you have but add some eye candy.  You don't necessarily have to be "creative" to achieve a fabulous result when you plan, research and organize.  There is nothing wrong with using an idea you found on a blog or Pinterest.
I casually plan a year ahead by being open to ideas throughout the year.  It may be July when I find perfect Turkey plates at an estate sale or antique shop or something for my next Easter table.  A month out from the event, I make detailed lists and collect all the items I am planning to use.  If it is a major holiday like Thanksgiving, guests need to be invited months in advance.  Guests will feel enriched if they can take away an idea you have demonstrated to use at their own next event, learn something new like a new recipe or be entertained by a happy atmosphere.  They should leave feeling content, grateful and honored to have been invited.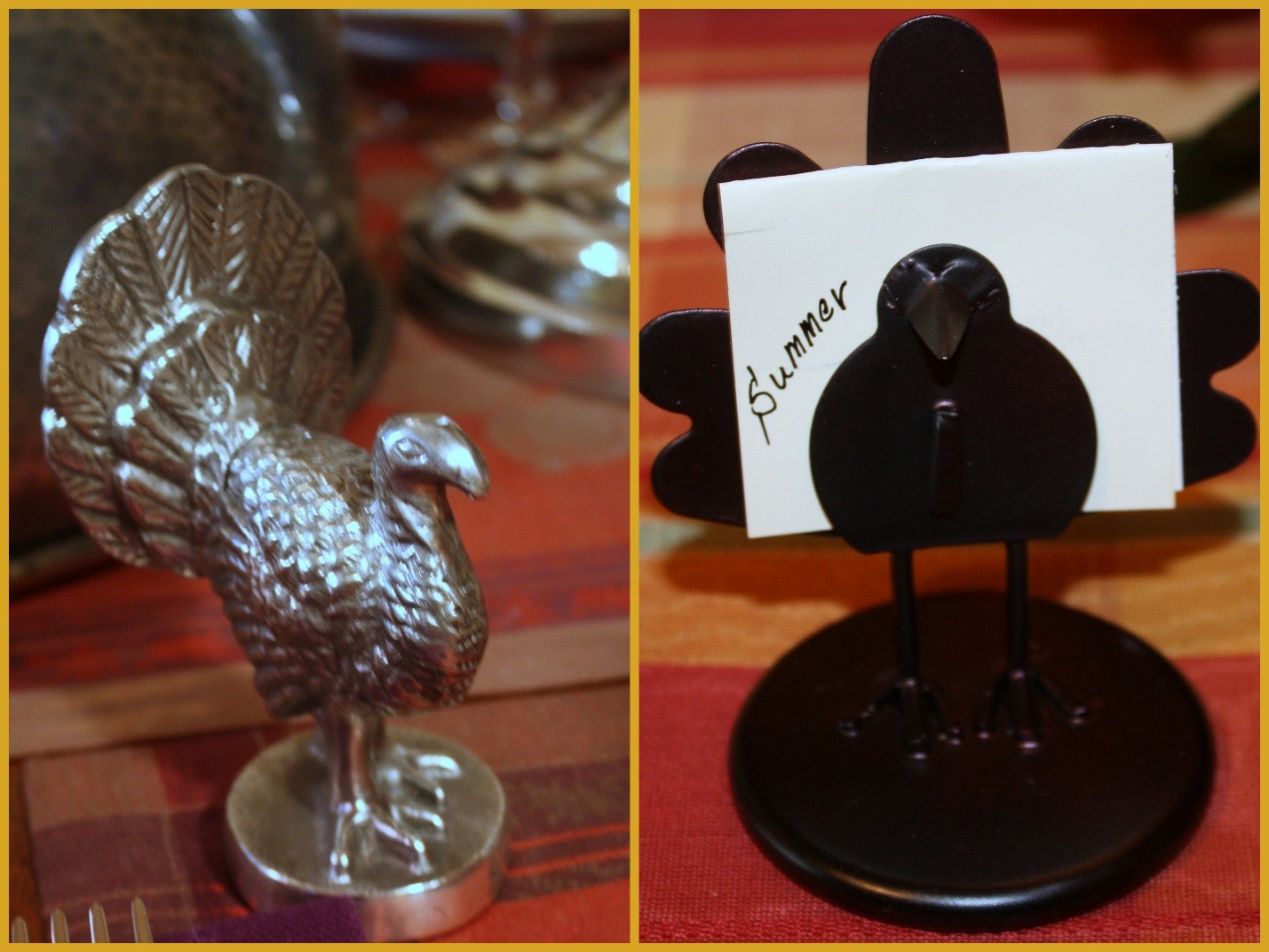 Since Thanksgiving is almost here, can you give an example of something special to do for Thanksgiving guests?
I purchased some amber glass turkeys with hollow bowls under the lid that were intended to serve cranberry sauce.  On each guest's plate to open before the meal begins, I place a turkey filled with small gifts specially selected for that guest.  It could be golf tees, fish hooks, thumb drives, key chains, a tube of lipstick, nail polish, lip gloss, small toys, etc.  I stay away from candy and money unless a teen is collecting coins, then I may use Buffalo nickels or Indian head pennies.
I also place under their place mat or charger a small Ziploc bag so they can easily take the gifts with them.  The more research or thought you put into the selection of small items the more special the guest will feel. Thoughtfulness makes a guest feel special, comfortable and enriched.
Using place cards either purchased or hand made at each place makes guests feel special when they see their own name.  It confirms their sense of belonging. Many styles are available.
What are your suggestions for making your guests feel comfortable in your home?
Find out their likes/dislikes beforehand if you can.  What do they drink?  If you are serving wine, have plenty of alternatives.  Are they allergic to oyster dressing, cranberries or nuts?
Have comfortable dining chairs.  Men are not comfortable for a three-hour dinner when perched on the edge of a small chair they feel will collapse any second.  Check the seat depth and width of your chairs.  Swede Collection at La Maison has many full scaled dining chairs.  Guests won't remain at the table if their chair is uncomfortable.
Seat all guests at a table so they don't have a wobbly tray on their lap.  Use multiple tables in the foyer or hallway if you have to.  Guests are very uncomfortable when they worry about spilling food or drinks on your upholstery or carpet.
Two demilune tables can be put together as a dining table for four people. Try to have a place for all guests to sit down.  Have available small stools or benches for use in family rooms for larger crowds that can be tucked under a console table when not in use. Larger chairs like wing chairs are comfortable for the ends of dining tables as well.
What would you do to make a Thanksgiving table memorable?
The centerpiece usually is the center of attention at the table.   This does not have to be a $200 arrangement from the florist.  For example, you can take an antique transferware platter and fill it with dried gourds and some Bittersweet vine.  I purchased these gourds at an antique mall and a package of faux Bittersweet vine at Michael's.  Real Bittersweet vine is available at Fresh Market.
I also cut Cleyera, Holly, Nandina, colored leaves and Magnolia branches from my yard to place in wet Oasis with some flowers from the grocery store.  You can also purchase inexpensively fresh and ceramic pumpkins and gourds, chalk ware or metal pheasants and game birds to create an attractive arrangement.  Using what you have will be less stressful.
A traditional fall tablescape used in September and October can be converted to a Thanksgiving theme with a few additions such as Turkey plates, thankful plates, Turkey napkin rings and place card holders or linens.
We think of Thanksgiving colors as brown, rust, harvest green, gold, amber or orange. You do not have to use fall colors. If your everyday dinner ware is blue and white, just add a blue turkey plate. Adding lime green or orange to a blue and white theme would look beautiful.  Or do red or coral with blue.
Greens are a great choice as they are easily found in natural elements.  Just put some fresh gourds on a platter for an instant centerpiece. Go through your cupboards and see what you can mix.  Dessert pedestal plates add a vertical dimension to the centerpiece.  There is no right or wrong.  Color themes are endless.
(Colleen is wonderfully adventurous with her designs. You can see more from her for inspiration here.)
How would you switch up your decor for a one-day event such as Thanksgiving dinner when your everyday color scheme is not fall colors?
You can change the theme by changing three things: Paintings, pillows and flowers. Select the colors you want to work with and use pillows in those colors.
Select a blooming plant, Mums or cut flowers placed in a color coordinated pot or vase.  Get a large blank art canvas from Michael's and splash, throw or finger paint it as an abstract with paint in those colors and place it in a prominent place.  Whatever color you use that is what the color the room will be.  The next day you can put the canvas and pillows in the closet and give the floral away. I like the three elements triangle décor process because if your furnishings are neutral, you can have an orchid room one day, a turquoise one the next, on and on.  You can switch up by seasons as well.  La Maison has many colors of pillows, such as the one above, available as well as abstract paintings if you don't want to do your own splash paint canvas.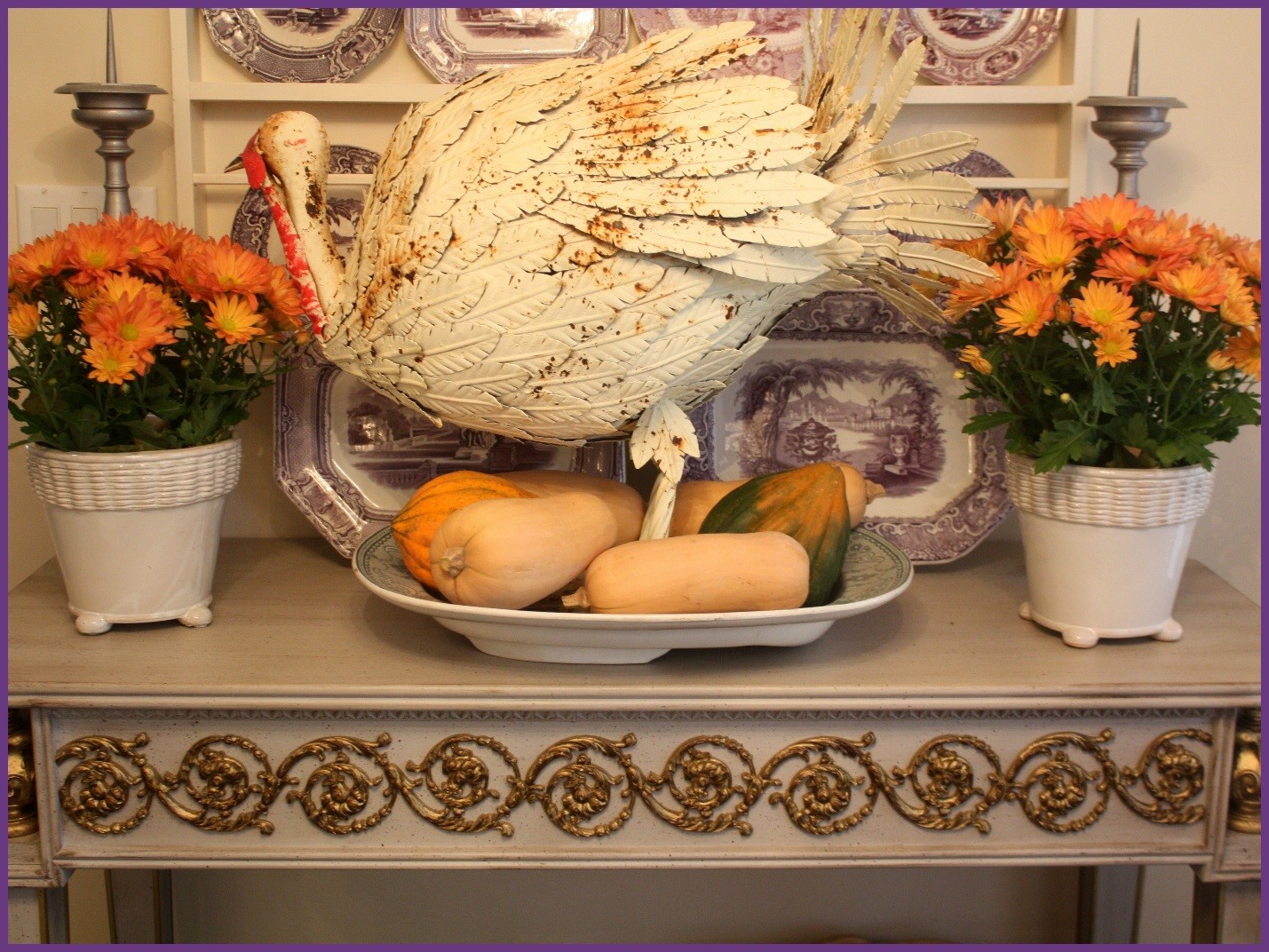 Do you have some quick, helpful hints for entertaining?
Do make sure your guests across the table are not blocked by the height of the centerpiece.  If you are using fresh flowers, put them in flower towers that are above the guests' heads.  Guests will be talking about these for years to come.  You can fill them with inexpensive Mums from the grocery store and greenery from your yard.
Set the table and make floral arrangements a day or two ahead and prepare as much in advance as possible so there is less work the day of the event.
Use stools and benches to provide more seating for large groups.  Swede Collection at La Maison has many to choose from.
Have table conversation ideas preplanned.  Memorize some great jokes or stories, interesting news or fun questions to ask guests.
Make your event unique so it will be memorable. Put sideboards, buffets and console tables to work.
Switch up the table if you have guests staying several days over the holiday.   Change out the napkin color, placemat color or plates but keep the centerpiece and chargers the same.  A little switch out will make it look like a new tablescape.  If you are using fresh flowers they should last for four days or more.
Make breakfast for your overnight guests special as well.