Easy Ways to Bring Fall Decor to Your Home
The leaves on the trees might not be changing yet, but you can find pumpkin spice in every coffee shop in the Mid-South. That means it's Fall at last! Fall's a season full of color and coziness: A time for warmth and socializing with loved ones. The holiday season is right around the corner and we all want to make the most of the friendliest time of year.
Fall decor is about embracing that excitement and bringing a warm, cozy feel to your home. And luckily, there's a few easy ways to do just that.

Bring the colors of nature indoors
Halloween will always bring pumpkins and bright oranges tones, but you can also turn to rich reds and browns to enhance your decor and give a living space a warmer feeling. The easiest way to add these colors to your Fall decor is by shopping for smalls and accessories like throw pillows and blankets. Look for a statement piece that you can feature on a coffee table or mantle.
Another great way to capitalize on autumnal colors is by adding natural colored wooden accents. There are plenty of fall-themed wreaths as well to bring warmth to your entryway.

Mix different textures
Texture is always an underappreciated element to designing a room. A soft throw set against sleek furniture can really make a room dynamic and lively. If your goal's to bring that woodsy feel of Fall into your house, playing with different textures will help you make that a reality.
For example, cotton is one of nature's softest textures. It's a great complement to nearly every piece of furniture out there because it can provide contrast. Cornucopias and pine cones will give you a similar effect on the opposite end of the spectrum. You can even play with cloth textures like burlap to give that rugged feel of moving the outdoors inside. Texture is a great place to let your creativity shine.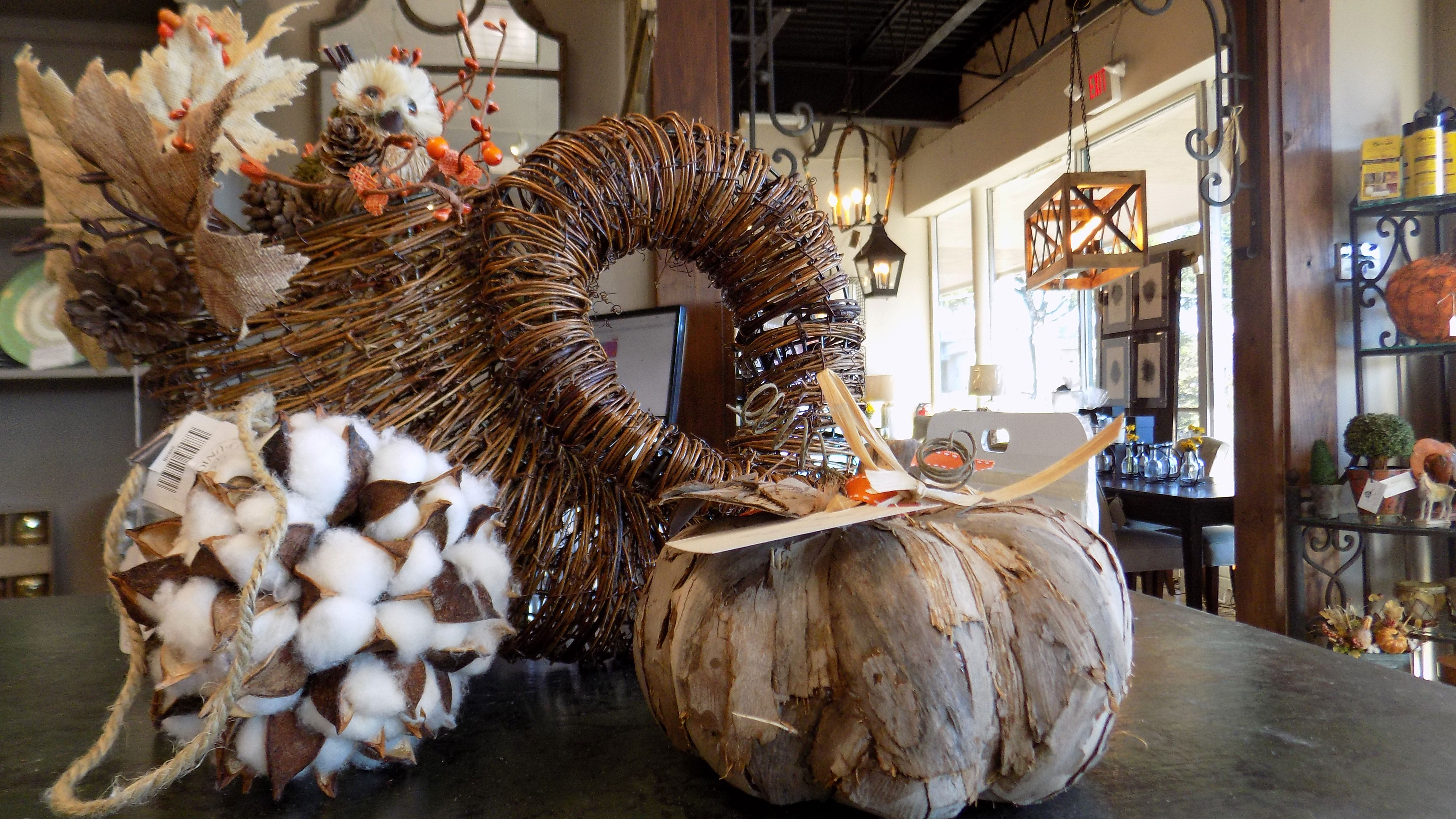 Make it a centerpiece
One of the most enjoyable aspects of Autumn is the holidays and how it brings people together. This holiday season, you'll inevitably find yourself at your dinner table surrounded by your loved ones.
So what better place to start introducing your Fall decor than at the dinner table?
There are plenty of options open to you here from one large centerpiece or a small collection of items. If you choose the latter, concentrate on finding a focal point to your design and find pieces that work well with that focal point. Always look for a little touch of uniqueness to it as well. For example, cornucopias like the one above aren't exactly rare – but how many have you seen with an adorable little owl peeking out?
---
At La Maison, we're excited for the change of seasons and happy to help you find the best way to introduce Autumn into your own home. If you're looking for design inspiration, take a look at our Designer Collection for recent items that have been in our store. Who knows? You might just find something special for your own home.